Alien Tiles Contest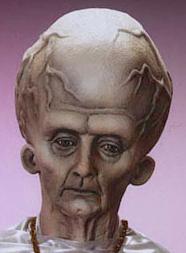 The person able to reproduce the target pattern below by June 30, 2000 will receive an autographed copy of either of these books by Cliff Pickover: Spider Legs, The Science of Aliens, or Computers, Pattern, Chaos and Beauty. (Note: If more than one correct solution is received, one winner will be chosen at random from among the collection of winners.) Send solutions to Cliff.




| | |
| --- | --- |
| | Devil's Target: |
---
Only one in one million people can solve this. If you are so awesomely brilliant, then try the even more difficult Omega challenge.
---




Return to Alien Tiles Main Page

(Cartoon image by Brian Mansfield.)